UPDATE: 10/4/14 I realize I didn't have a place to update news about MLFAS, KSH, and JJH.  Since I usually keep pretty current about it, thought I should make a post for you guys to keep tabs of all the latest news, gossips, rumors.  Just another way to keep the love thriving! 😀 All sources are taken from either Soompi, LINE group chat, various Facebook pages, various Twitter pages, Weibo, Baidu, DC, and various other pages and sites.
10/4/14: As you guys well aware I haven't update much here, sorry too busy these days.  I'll just update the most important stuff from now on.  So, this is the highlight recently: KSH won Daesang award for KDA.  So, it's official that we have the first and only DAESANG couple!!! yah!  MLFAS also won as Best Drama as well as a few other ones.
9/23/14: KSH latest schedules: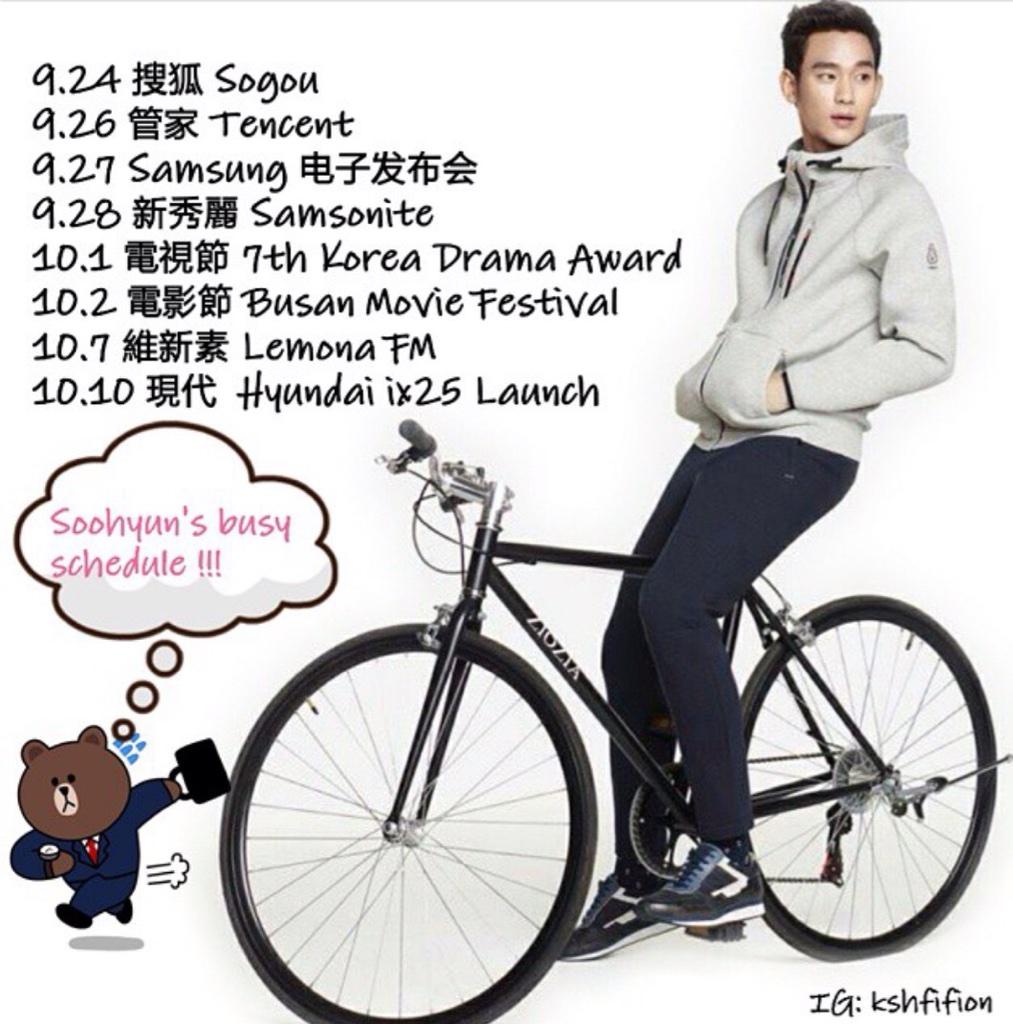 9/19/14: Here's some pictures of Incheon Asia Game:

Third, supposedly KSH will be attending Hyundi 1×25 as seen below with Rain and other celeb/singers in October 10th.
Fourth, here's Incheon Asia Game rehearsal pics coming up tomorrow.  Also, you can see the promotional picture too as it seems KSH is put front and center amongst other famous idols/singers, lol.
9/17/14: Rumor has it that KSH is busy for the rest of 2014 and won't be appearing in any shows/movie.  He is still debating on what to choose for his next project so most likely we won't see him until sometimes in 2015.  Looks like for now it's just CFs, FMs, functions and events.  As for JJH, most cast and crew is already in Shanghai to shoot for Assassination but as of now she's not there yet.
9/15/14: Well since news about these two and MLFAS is kinda rare these days, here's just some off beat "news", lol, sorry did I turn this into shipper's paradise? sorry…so KSH & JJH both sent congratulatory note to TV Report 10th Anniversary.  Funny how their messages is very, very similar huh?  

KSH: "TV report changkan 10junyeoneul chukhahamnida"

JJH: "TV report changkan 10junyeoneul chukhadeurimnida"

….same heart, same mind ;)~
In other rumors, looks like JJH will be going to Shanghai to film her movie within the week and will stay there for 2 months.
9/7/14: Sorry everyone, miahne…I got a bit sad and disappointed so I haven't updated anything here for a while.  I guess you all know by now that JJH did NOT attend SIDA…so therefore she did NOT with the Outstanding Actress Award but well here's the SIDA pictures update, MLFAS won as Excellent Drama, KSH won for both Popularity & Outstanding Actor Award, and Lyn won for My Destiny OST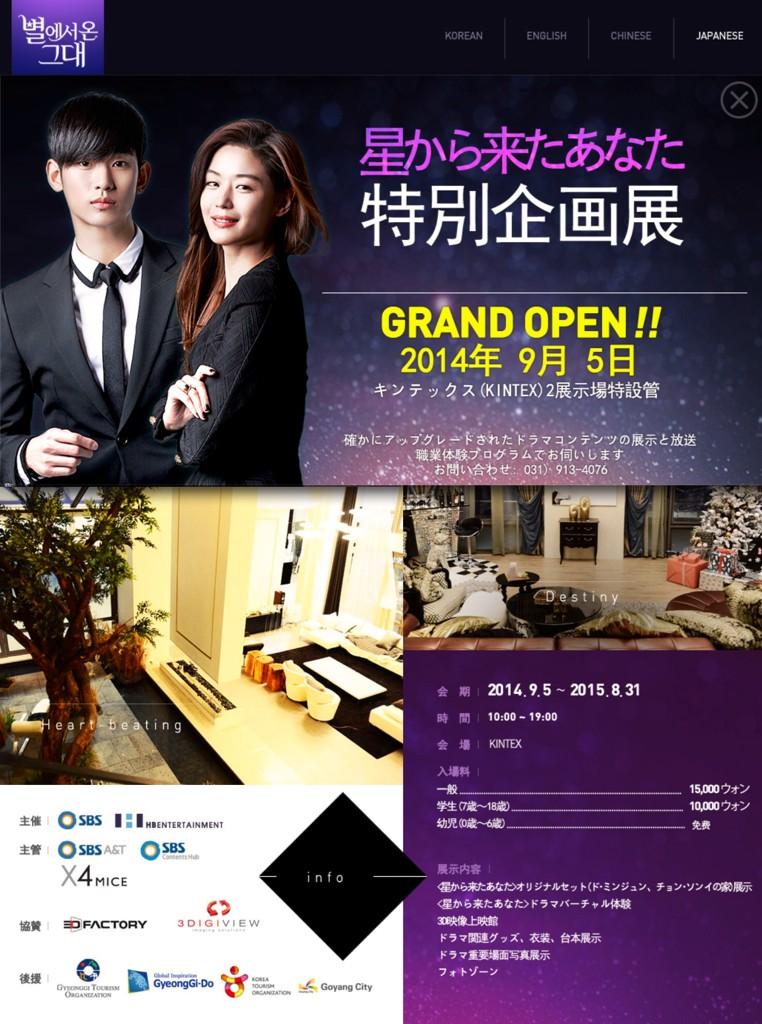 9/3/14: Samsonite Red Concert, he didn't sing:
JJH did not attend KBA award 😦 she send out a pre-recorded video 😦
9/2/14: Oh Happy DAY! umm…I'm not sure how reliable is the news source but I got word that JJH will attend SIDA!  Please guys, don't kill me if that didn't end up happening….I'm just the news/gossip barrier haha, let's hope it's for real!….NO SHE"S NOT COMING! 😦
9/1/14: In the news today Mission Hills World Celebrity Pro-AM 2014 will be held in Haikou, China from 26-28th of October this year (er in a month or so).  The organizer announced in the press conference yesterday that the celebrity participants will include Morgan Freeman, Nicole Kidman, Jessica Alba, Chris Evans, Rain, Donnie Yen, Simon Yam, Chen Daoming, JUN JI HYUN, etc.  Oh wow, I never thought to see JJH participate in this kinda of thing.  Apparently each team consists of one professional golf player and one celebrity and they will fight for the championship.  Sounds Awesome?! (though why Rain and Simon Yam…where is KSH?!?! haha, you guys know I'll say something like that right?)  But wait, her picture is not on the official site yet? hmm…well guess we'll see.  Here's the link to official site:  http://www.missionhillswcpa.com/zh-cn/stars_celebrities.html
8/29/14: So it's Lotte Family Concert and the theme is MLFAS…first of all, it's raining…and second of all KSH so far only sing one song that I know of…and that's Dreaming.  Ugh I'm wondering why? Shouldn't he be singing "Promise" or "In Front Of Your House"?? Unless it's really tough for him to relive it…hmmm….or he's just still dreaming about someone or something, lol ok I'll stop with my silly rant, here's some pics:
8/28/14: It's said that tomorrow Lotte Family concert will have a MLFAS theme…oh then why oh why couldn't they get JJH to come? or make an appearance or something…
Also KSH is now at Yili Yogurt event pics below:
8/27/14: Sad and yet bizarre news: in China, a young woman attempted suicide by climbing out of her building window attempting to jump.  She's heard screaming out saying in Korean & Chinese "Oppa…Professor Do, I love you" …they believe she's referring to KSH role as Do Min Joon the alien.  What must he think of this incident?!?
8/23/14: JJH has been tagged for the ice bucket challenge by some random guy, lol, Daniel Snoeks…he's not even Korean.  Let's see if she'll accept.  She also had cut her hair and is heading to China for the Daphne concert…then at the concert.
8/22/14: KSH is tagged for the ALS Ice Bucket Challenge and he answered 🙂 saying "Hi, I'm Kim Soo Yun.  I'm now in New Zealand for the CF filming.  I hope I can raise people's concern to ALS through this ice bucket challenge.  I'd like to invite Jo Jeongseok, Ok taec Yeon, Lee Hyun Woo to join this charity event."
8/20/14: Looks like KSH just got back home yesterday and today is back to the airport going to New Zealand, believed to be for Beanpole, it's not on his schedule…someone's a busy bee.
8/18/14: It is said that Pizzahut put out an ad to look for a JJH-look-alike to shoot with KSH in Shanghai, lol, why can't they use the real thing?  Well, isn't it obvious?  They should be filming it right now, wonder if they're able to find someone or just scratch that out all together.  That would be interesting though, I would love to see a JJH doppelganger working with KSH just for laughs. UPDATE: it seems they did find the girl that looks like JJH…here she is, now I"m ubber curiuos to see this commercial…sadly guys this is what we can only get: Photoshopp and doppelganger.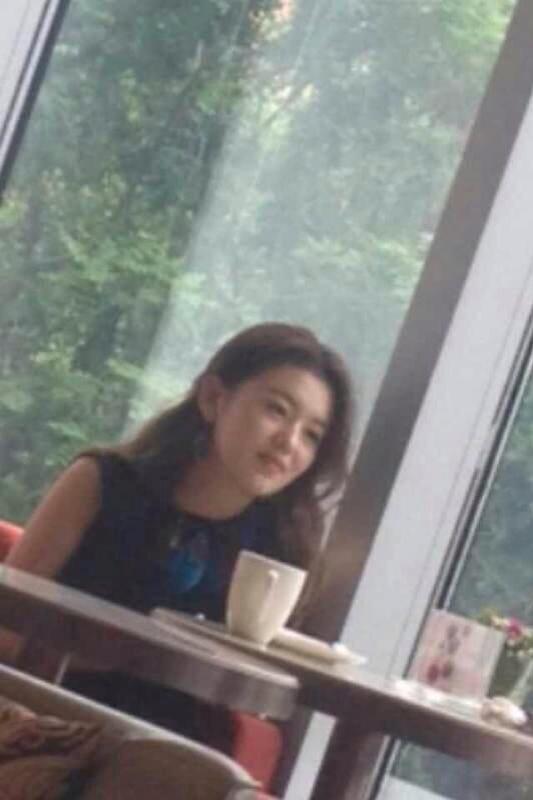 8/17/14: It looks like KSH will stay in China for a few more days to shoot Pizza Hut CF?
GOOD NEWS!! It looks like the exhibition for MLFAS is now closed but a NEW UPDATED version will reopen from September 5, 2014 all the way through to August 31, 2015! YES! The universe must be hearing my call and is waiting for me to visit them, given me more than an extra year to prepare and make my way there *wahahhaha*
8/16/14: Click picture below for most updated KSH confirmed schedule for August & September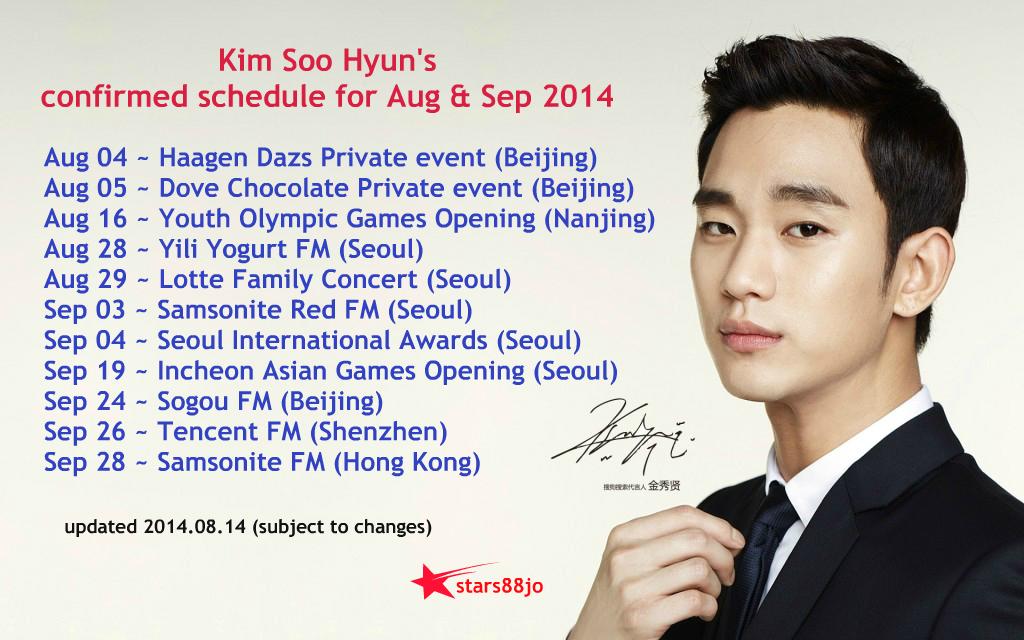 8/14/14: SIDA It is said that KSH will be singing in Chinese & English along with other international singers for the opening of Youth Olympic game.  Below is the airport pics of going & arriving in Nanjing, China and his rehearsal:
8/12/14: SIDA announces KSH & JJH winner for Outstanding Awards along with OST My Destiny and MLFAS & Heirs as the two receiving Excellent & Outstanding Kdrama, YIPPY!
Sadder news, it seems there's rumor going around about JJH pulling out of CoffeeBene…you know the one she's suppose to do with KSH? it's not confirmed yet but there's promo out for CoffeeBene and her pic is not on there and neither is her name mentioned *huhuhu*
JJH is rumored to be in China on 8/13 for a commercial promo not sure for what brand Lanchen private event, update pics:
And update pictures of JJH at the Korean Tourism Honorary Ambassador ceremony:
8/11/14: JJH is announced to be the new face for Hera brand.  Also, SIDA had a conference today to announce some info on nominees and winners but as of right now info is not yet clear, will update more on this later.
And for those who want to stalk KSH, it is said that on 8/14 he will take the flight out from Seoul to Nanjing, China on flight OZ349 at 12:30-13:45 🙂 that's ICN airport to NKG airport…happy hunting!
8/10/14: JJH has been appointed as Korean Tourism Honorary Ambassador by Korean Tourism Organization, recognizing as a hallyu star at world class level through the series MLFAS.  She will attend the ceremony on August 12 and will start the promotion plan which may include CF that will broadcast worldwide. YAH! so happy for her 🙂
8/8/14: Per sports news, KSH should be attending Nanjing 2014 Youth Olympic Games on August 16
8/5/14: JJH is selected for the Best Actress Award (the only recipient from this category amongst all actors and actresses from all dramas) in Korea Broadcast Awards.  The ceremony will be held on September 3, 2014 and will broadcast live at MBC.  Just to clarify this is NOT the same as SIDA award which is held on Sepetember 4, 2014 and broadcast live by SBS.  So excited I hope she attend both!  If I can only choose one I'd rather she attend SIDA as that's where KSH will be 😉 …no news if KSH will attend KBA award or not.
JJH also rumor to have an events on 8/23 attending Daphne Concert as special guest and 8/25 (not known yet for what) in Shanghai.
Key East had confirmed that KSH will attend and holding a performance during the opening ceremony of Incheon Asian Games Asiad Main Stadium on September 19…as for what performance that's not known yet.  Big names like EXO, Big Bang, CNBLUE and others will be performing as well.
KSH had another undisclosed event today in China for Dove Chocolate before he went back to Korea on a late night flight…see pics below:
8/4/14: KSH is at the Haagen Dazs event in China, here's some pics;
8/3/14: Latest news is that KSH has landed in Beijing…believed to be for the 8/2 event of Tencent?  Or is it an unrelated private event? We're not quite sure as yet but here's some airport pics below 🙂
Rumor has it that JJH is also in China, Shanghai…though don't know what is it for since her next FM in China is not until August 8, hmm…just rumor though, so nothing official 😉
8/2/14: The newest rumor schedule of KSH looks like this: 8/11 Seoul Lotte department store promo poster filming, 8/23 Beyond FM, 8/28 Seoul Yili FM, 8/29 Seoul Lotte Duty Free Family Concert FM, 9/3 Seoul Samsonite Red Concert, 9/4 Seoul International Drama Awards, 9/26 Shenzhen Tencent FM, 9/28 Hong Kong Samsonite Red FM, 10/14 New York FM
Now there's rumor that JJH Assassination filming will start sometimes end of September or early October…if that's the case then her schedule won't hinder her going to SDA right? Let's hope 🙂
7/29/14: From August to September if you're traveling Eastern Airlines from Shanghai Pudong Airport you can get a limited edition KSH picture boarding pass…haha how cute!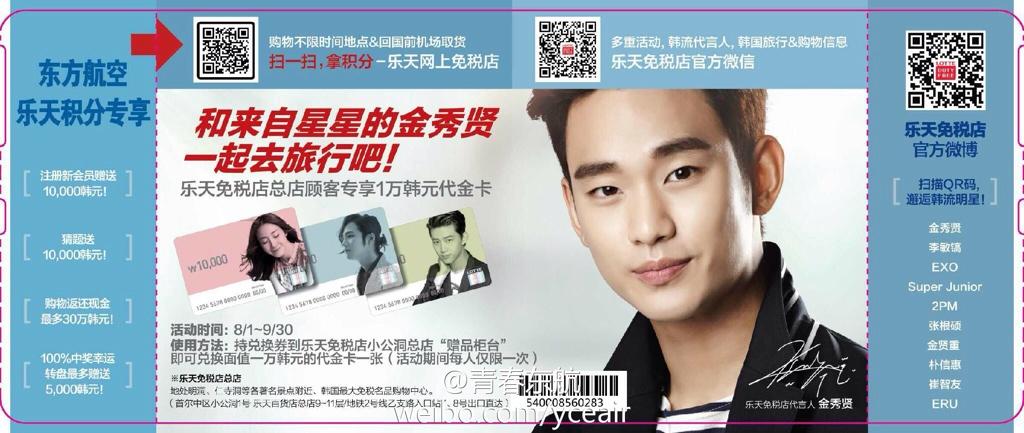 7/28/14: Other KSH events updated: on 9/3/14 is Samsonite Red Concert between 8pm-10pm, located at AX HALL
7/27/14: It seems that JJH will have a private? FM on 7/28 & 7/29 at Xianmun International Hotel…in China? for her new chocolate CF? This is a rare thing for JJH 🙂 hope there'll be pictures!
KSH & PHJ (play Hwi Kyung in the drama) is rumor to be present for Lotte Family Concert in Seoul on 8/29, schedule to appear for 40 minutes.  Also KSH suppose to appear for Tencent FM at Shenzhen on 9/26.
Another fun news about KSH, he just ordered a new BMW i8 schedule to be release later on this year for about $135,700 US dollars…not sure about what color he choose but it look something like this….HHHHOOOOTTTTT car for HOOOOTTTTT guy 😉 me want a ride!
7/26/14: Rumor has it that KSH will attend Samsonite Red event in Hong Kong Asia World Expo on September 28 🙂 more updates on that later.
7/23/14: Everyone please don't forget to stop by any Twitter/FB account to congratulate KSH on his 7th Year Debut Anniversary!  Well technically its 7/24….but in Korea it's already 7/24 even if for us in US it's only 7/23…HAPPY 7thYEAR! #7thYearWithKimSooHyun
7/22/14: JJH received "Star of Korean Tourism" award 7/21 from the Korean Tourism Board in Seoul
7/21/14: Well, KSH & JJH did not make an appearance for the auction…booo.  In other news, JJH will make an appearance at the Gucci event in Taiwan, walking the red carpet with the successor of the Italian brand Fiat, Lapo Elkann.  It's believed Gucci paid her a hefty sum 😉 She's schedule to stay at the Mandarin Oriental Hotel arriving on 7/24, attend event on 7/25, and leave on 7/26.  This is a huge event for Gucci in Asia, it's predicted that about 900 guests will be invited with press from China, Hong Kong, Singapore, Malaysia, Korea for this fashion show. (can I please pray for KSH appearance? haha)
7/19/14: It seems like JJH is currently in Thailand, will she be able to make it back for the charity event? let's hope so, 10 more hours to go 🙂
7/18/14: There's rumor that on the 20th of this month…umm in a few days, there is an auction for charity event selling MLFAS items and supposedly KSH & JJH will be there.  If they are they might not be on the same screen/stage though.  But supposedly KSH will auction his clothes and JJH will auction jewelry and purse, etc.  This event will take place at Seoul Dongdaemun Design Plaza at 2pm Korean time.  Excited mode ON!
7/17/14: Unfortunately, it looks like MLFAS the Movie which was suppose to be release in China next month, did not make the Censorship cut because…well, it's about a 400+ year old alien.  HA! go figure.  Well, the representative said they will try and edit it to submit again.  It seems though there is no extra shooting for it so the movie is whatever we've seen and whatever that was cut out  while filming would be edited to make into film version.
on a side note: also KSH made a "surprise" appearance on a "secret" FM for Chungho Nais event on…well the date is sketchy but seems to be 7/15 (some other sources said 7/16, 7/17)…confusion tactics maybe, providing (fake) alibi maybe…but real detectives don't fall for that 😉
7/17/14: JJH schedule for upcoming movie "Assassination" estimate the shooting period to be from 8/21/14 – 1/10/15.  The estimated movie release is to be around July 2015.  Oh no, we hope she can come to the Seoul International Drama Award and SBS couple award with our boy! Her schedule got me worried a bit, huhuhu.
7/15/14: Person A is spotted with Person B together in NY by three different sources…perhaps on a business trip?  Will be waiting for more official news 😉 …but if there's no official news….well, that's ok too, kikiki
7/14/14: It's time for fans to come out and vote in the 2014 Seoul International Drama Award taking place in September 4, 2014.  For more information go to this post here.
7/11/14: KSH latest schedule is now saying: he's doing a magazine shooting at the end of July.  August he will have fan meeting 8/2 for TENCENT 8/29 for LOTTE and in September he's having fan meeting 9/3 for SAMSONITE, endorsing 2 events in China, an event in Japan OSAKA, and attending Seoul International Drama Awards (let's hope JJH is also going!).  He will now be in New York & California between October 4-12 (so mark your calendar!) and between November-January he's filming his new drama in London, French, Holland, and in Europe.  Lastly, this is a while out but supposedly he's having a fan meeting in Europe on March 2015.  That's the schedule for now 🙂
7/10/14: This is not particularly new news but recently been known…did you know that The Thieves kiss scene between KSH & JJH have 20 retakes?  And the Red Carpet Kiss report to have 12 retakes…that's a combine total of 32 hot kissing moments that they did together.  That's not including all the retakes for the other 7 kisses.  Yup, that's a whole lot-a-lot-a kissing going on 😉 I guess they are officially…professionally erhh very, very familiar with each other's lips.
7/9/14: Looks like KSH is having a fan meeting in New York on October 14, 2014 (he also should be in California too just don't know the date on that one)…who's coming to New York?!?!  ME! ME! ME!  As for JJH, she have a fan meeting by Lanchen on August 8, 2014 in Suzhou, Jiangsu China.  There's only 300 tickets so grab one if you're in China!  You know how rare she comes out right?
7/8/14: Rumor has it (from twitter) that JJH and KSH signed up together again as spokesperson for Coffeebene.  It's not known yet if this is for China or Korea.  But this will be their 3rd collaboration as brand ambassador together; Samsung was first and Hongda water second.  However, with both neither of them did CF or photoshoot together.  Let's cross our fingers for this one!! TOGETHER PLEASE!