The back story about this short script:  this happened a while back just after Baeksang awards, the buzz on KSH & JJH was all the crazed.  So then a few days later we get an ultra rare sighting of JJH with her hubby eating at a restaurant caught on film…soon afterward there were pictures of KSH that flood the internet of him playing badminton with his…yes, you got it…his translator.  So this is what my delulu head comes up with 😀
KSH heard about JJH's outing with hubby……..
………
……….
……………
………..
……….
He decided he needed to cool down……. ahhh….sport is a good stress relief right?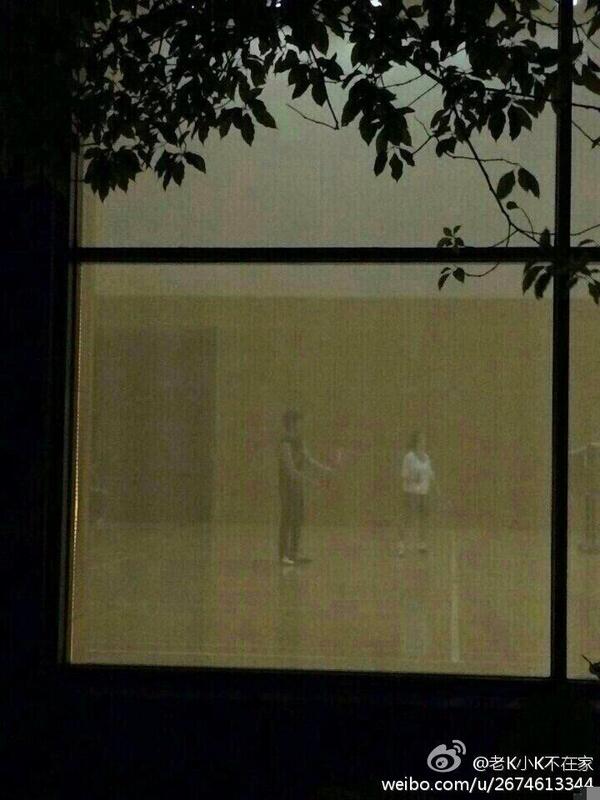 ……
……..
………
But let's kill two birds with one stone.  KSH called up interpreter lady.  He played badminton with her and let the people freely take photos of him….
……
………
…..
He knows JJH.  He hope there's lots of pictures floating around.  JJH will be so jealous she's going to call him….oh wait, that's her:
JJH: Soo Hyun-ah…who is that?
KSH: oh hi noona! how are you doing? oh you saw that?….these people, can't do anything without them knowing…
JJH: but who is she?
KSH: oh that's my translator, we're playing badminton, she's actually really good!
JJH:……………*silent*……………is she the same one that accompanied you almost everywhere at almost every fan meet?
KSH: umhum…yep……………did you have a nice lunch the other day with your husband?
JJH: yeah sure it was lovely.  So why are you playing with her?
KSH: oh ok…that's great, that's great…….oh her? we get along great.  hmmm…maybe I'll go swimming next, I heard she's a good swimmer too….maybe we'll have a race to see who wins *laughs*
JJH: Soo Hyun-ahh…..um…..why do you hang out with her so much, are you and her dating?…..do you like her or something?
KSH: oh Noona, look at the time, I gotta go now.  It's nice talking to you, I didn't think you would call so soon since you said you wouldn't….but it was nice chatting with you, I have to get ready now.
JJH: oh, yeah ok…..well, call me if you need someone to talk to….and by the way you shouldn't be out and about with her too much or even talk to her too much outside of work….people will talk.
KSH: yes I got it noona….so I can call you later if I want to?
JJH: yes.
KSH: ok, great.  Bye noona!
JJH: (hung up the phone) what just happened? did that boy just got me jealous? *continue looking perplex*
KSH hung up the phone and jump on his bed giggling like a little boy *kikikiki*